ISC-CX Close the Loop
powered By AI
Efficiency CX-Gap solutions for
the Customer Journey!
Welcome to Close the Loop (CTL) powered by AI! Our innovative solution enables you to immediately fix operational shortfalls in your retail environment revealed by audits or mystery shopping and continuously improve the customer experience. Save time, resources and costs by actively involving your employees in the process.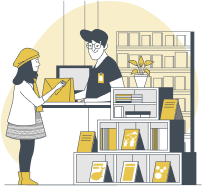 Advantages of ISC-CX CTL
1
Reduce
workload
Streamlined communication and
full transparency.
2
improve
efficiency
Increase the productivity of your retail performance.
3
Smart
solution
Supported by artificial intelligence.
4
Barrier-free
No additional technical hurdles.
5
No-Code
Solution
Easy integration into existing systems.
6
Centrally
controllable
Track progress in real time.
7
As a stand-alone or a combined solution
Use it as individual solution or combine it with mystery shopping and audits.
8
Cost-saving
No external consultants or extra work.
9
No training
required
Flexible, easy to understand, fast.
How ISC-CX CTL works
Retail manager receives KPI report with AI-identified opportunity.
Reference to the necessary action provided directly in the KPI report as a QR code.
QR code leads to action plan for retail manager.
Clear description of steps to act on the opportunity.
Upload proof of correction.
Clear record of the improvement shown in central dashboard.
Intuitive user interface, effortlessly managed.
Integration and compatibility
Seamless integration into existing mystery shopping and audit programmes.
Correlation and combination of data for comprehensive insights.
ISC-CX CTL as stand-alone solution. Define your triggers and resolve opportunities.
Arrange a free Consultation
Enhance customer satisfaction and optimise your business with Close the Loop powered by AI. We are happy to support you in the implementation and use of CTL.
click here
Find out more
About ISC-CX and how Mystery Shopping and Audits can benefit your business.
click here