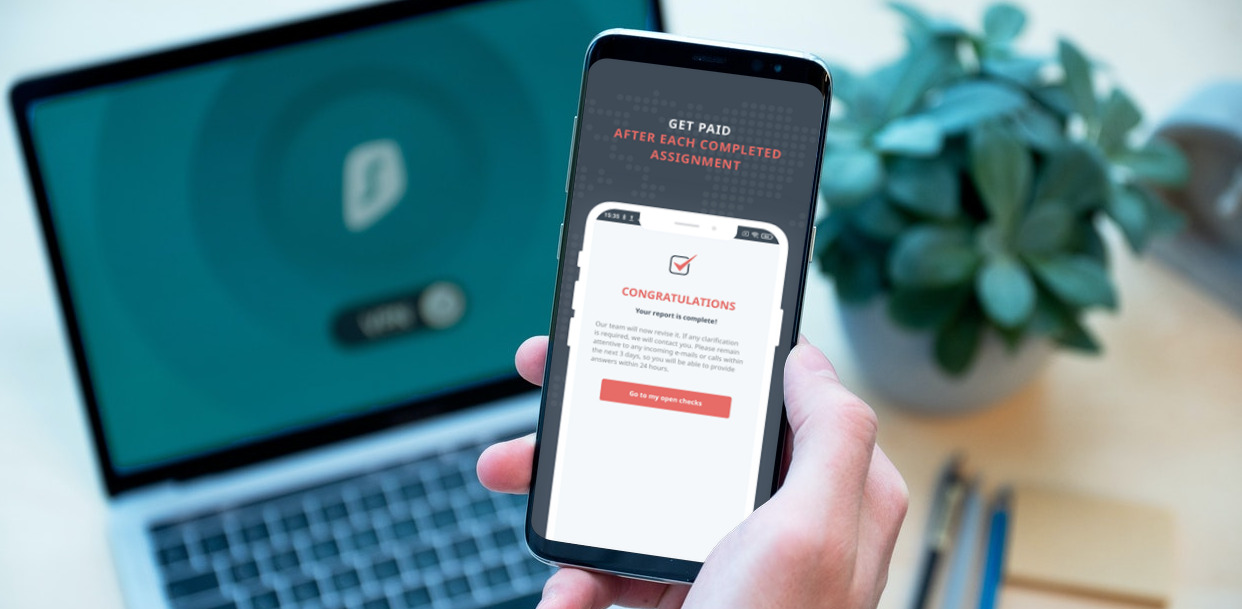 GET PAID TO SHARE YOUR OPINIONS ON LEADING BRANDS
Download the App. Sign Up. Evaluate Brands. Make Money in Your Free Time.
Want to Join the Team? We'd Love to Hear from You!
As an Evaluator —our in-house name for our "Mystery Shoppers"—you have a big responsibility. You get to show leading brands exactly what their customers experience every day. You get to tell them how good their service is (or isn't). And you get to share your personal thoughts on how they can do better to make people like you happy.
Best of all? You get paid to do the kinds of things you're already doing every day! We're talking about going shopping, comparing brands, and making gut-level choices about what to buy— and what to leave on the shelf.
Here's what we look for in an Evaluator:
You love to shop
You love to give feedback
You are an outspoken person
You have an eye for detail
You adapt to any situation
You feel comfortable in both quick-service restaurants and luxury boutiques
You love adventure
The best of all: With the ISC-CX mobile App you are always informed about possible jobs in your area. You can apply, get trained and carry out the assigment directly through the App.
If that sounds like you, read on or if you wanted to get started right away:
Download ISC-CX mobile and register directly through the App!
If the ISC-CX mobile App is not available in your market, you can register through our web registration.
If we select you to be one of our 1,000,000+ Evaluators—our in-house name for our Mystery Shoppers—we will give you top-notch training and certification. We'll hook you up with a local market expert, and we'll hand select you for each project you are uniquely suited for.
We make each of your projects easy to succeed at—we give you clear and detailed instructions of where to go, when to go there, and what to do there. (Often, you will have to take a picture. Sometimes, you will need to record a video. But usually, you'll just have to purchase something which, of course, we will pay you back for.)
Once you complete your project, all you have to do is share a little feedback on your experience. (We'll provide you with specific questions and clear instructions on how to provide this feedback.) After that, we will pay you for your help, and we'll let you know as soon as there's another great project that's perfect for you.
What does an Evaluator do?
What does

an Evaluator do?
Basically, you go to an establishment we ask you to go to, and you just act like any normal customer there. You already do this all the time. We just want to pay you for it.
Really, there's only one difference— we give you some details to follow. Where to go and when. What to do there. And how to document and share all the details of your experience.
This is important. By sharing your experience, you are giving us—and the business you visited—a 100% accurate snapshot of what real customers experience at their establishment. You let them know how they're doing along critical customer experience areas like quality of service, brand and product positioning, and how knowledgeable and helpful their employees were. (Pretty much everything that's important to you as a customer.)
If you're ready to help companies improve their customer service, then reach out now.
Can I Be an Evaluator?
Of course! We want to pay you to go on fun experiences during your spare time— all while you help to improve your hometown's products and services. Just click here to apply.
How Do I Get an Assignment?
Just follow a few fast, easy steps:
Register: Sign up with us as an Evaluator. Fill out your application form with a few personal details about you and your shopping habits, and we'll see if you're a great fit.
Selection: Our clients send us jobs they need completed by Evaluators like you. They let us know what kind of Evaluator would be great for the job, based on things like their age, shopping habits, likes, dislikes, and location. If you match their needs, then we'll call you or email you to see if you're available for the job.
Assignment: When we reach out with a job, we'll give you all of the details—where to go, what to do, and how to report on your visit. If you like what you hear, you can accept the job. We'll send you a deadline, detailed instructions, and the complete questionnaire or report you'll need to fill out.
Completion: Complete the job, fill out your questionnaire or report, and send it all in with your invoice. We'll read it all over, reach out via email or phone within 48 hours if we need anything more from you, and finally sign off and pay you directly for your great work!
How Long Do Assignments Take? How Many Will I Complete?
You can complete most assignments in just 30 minutes. How many you receive each month will vary depending on your location, your fit, and our clients' needs.
How Much Money Will I Make as an Evaluator?
It depends. Every job pays a different amount. But we'll always let you know what a job is paying before you accept it.
Will I Buy Something on Every Assignment?
Not always. Each assignment is different. We'll explain every job you take in extreme detail before you get started. If you have to make a purchase during your assignment, you can either return it for a complete refund or you can keep it at a big discount.
Do I Become Your Employee if I Register as an Evaluator?
No, you will be considered an independent contractor who is simply conducting assignments for us in your own time as assignments become available. Our Evaluators aren't looking to become our full-time employees— they just want to make a little extra money in their free time through one-off assignments that pay a pre-agreed fee.
If I Don't Accept an Assignment, am I Removed from Your Evaluators List?
Not at all. You can accept or reject an assignment for any reason. We won't take it personal! We'll just reach out again when we've got a new job that you'd be great for.
What Happens if I Can't Complete an Assignment I Accepted?
Just let us know before your deadline, so we can assign another Evaluator to the job.
If you don't inform us that you can't complete your assignment, and the deadline passes, then we'll have to consider that a breach of our agreement by you, and we'll have to remove you from our Evaluators database.
Do I Need to Complete My Assignments by a Certain Date?
Usually, we ask you to complete your assignment in your spare time, within a wide time frame. For example, we might ask you to complete your assignment within a store's regular opening hours on any day between the 10th and the 15th of the month. In most cases, you get to pick when you complete your assignment. We just need you to complete your questionnaire or report before a deadline we set.
However, sometimes our clients need you to complete your assignment on a specific date and time. When that's the case, we'll tell you the required date and time before you accept your assignment.
What Happens if I am Detected During My Assignment, or if I Miss Certain Details?
Unfortunately, if sales staff find out you're an Evaluator, or if you can't complete every detail of your assignment, then we have to consider your assignment null and void. As a result, we'll need to re-assign your assignment to another Evaluator, and we won't be able to either pay you for your assignment or reimburse any expenses you incurred during your failed assignment.
Can I Become a Full-Time Evaluator with ISC-CX?
Unfortunately, you can't. This is only a part-time job, and most Evaluators complete their assignments over the weekend or after they finished their day job. Consider this a secondary source of income, not a full-time employment opportunity.
How Can I Get More Assignments?
After you complete an assignment, our editors will grade your work. We'll send you your grade and feedback to improve. If you keep filling out detailed feedback, and getting better and better grades, then you'll usually get selected more often than less experienced and less attentive Evaluators. If you are highly-rated but you don't hear from us that much, it's only because we don't have any appropriate assignments for you at the moment.
What's the Difference Between Being a Tasker and an Evaluator?
The two roles have a lot in common. In both cases, you complete relatively small jobs as you go about your day-to-day life, and get paid for it. However, Evaluator jobs are more complicated, more time-intensive, and take more preparation. In addition, Evaluators are trained and certified, and individually selected for their jobs, while Taskers require no previous training. Just follow the instructions in our app, collect simple certification badges, and only pick the jobs you find most convenient.
I want to be an Evaluator!
I want

to be an Evaluator!
Great! We're looking for real people like you— who come from a wide range of backgrounds, who live all over the world, and who are looking to make a little money by completing short, easy assignments in their free time. If you feel you can be discrete, attentive, and perceptive—and if you have reliable internet access to fill out your evaluation right after your assignment—then reach out!
Download ISC-CX mobile and register directly through the App!


If the ISC-CX mobile App is not available in your market, you can register through our web registration, here:
Come Say Hi
Are you ready to join the ISC-CX family? Reach out and let us know how you'd like to partner up to create a more customer-centric world.